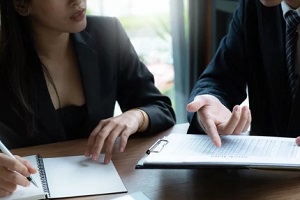 The operation and management of a trade association require prudent fund management, appropriate asset investment investment, and making strategic decisions that impact members. These duties come with substantial risk and potential liability for those with fiduciary responsibilities, such as board members, officers, or executives.
Obtaining fiduciary liability insurance can help mitigate these risks by protecting against any potential losses incurred from allegations of mismanagement and breach of duties.
Who Has Fiduciary Responsibilities?
In addition to high-level executives and board members, fiduciary duties apply to other staff members, such as those who manage finances, administer benefits, or control association assets in any way. Typical fiduciaries can include:
Board members – Oversee finances, guide strategy
Officers and executives – Manage investments, make financial decisions
Committee members – Control budgets, funds for events/initiatives
Staff administering benefits or association assets
Having fiduciary duties requires you to act solely in the interest of the association and its members. Personal interests or gains can not influence your decisions.
Examples of Fiduciary Duties for Trade Associations
Fiduciaries of trade associations have important duties, such as:
Managing association finances in a prudent manner
Making sound investment decisions with association funds
Overseeing employee benefit plans such as 401(k)s
Ensuring accurate financial reporting and audits
Making strategic decisions focused on the association's mission
Establishing association budgets, committees, programs
Selecting vendors or contractors for the association
The decisions and actions fiduciaries make on behalf of trade associations have consequences. Mishandling funds or making poor financial decisions can significantly harm an association. Even errors made in good faith can expose fiduciaries to liability.
Risks and Liabilities
Unfortunately, as a fiduciary, you may face substantial personal liability if sued for alleged breach of duties. Disgruntled association members, vendors, employees, or even government regulators can all potentially take legal action against fiduciaries. Some common allegations include:
Mismanagement of association finances and investments – Fiduciaries may be accused of investing funds improperly, overpaying for services, allowing waste or abuse of association resources, or simply not prudently managing finances. Even allegations of honest mistakes can trigger lawsuits.
Breaches of fiduciary duties under ERISA for employee benefit plans – Associations offering 401(k)s, healthcare plans, or other employee benefits must ensure fiduciaries handle them correctly. Mishandling benefit plans under ERISA can prompt legal action.
Conflicts of interest, such as personal gains influencing decisions – If fiduciaries benefit personally from decisions made for the association, it can appear to be a conflict of interest and breach of duty. Even the appearance of bias can spur lawsuits.
Gross negligence or ignoring obvious problems/warning signs – Failing to take action when there are clear signs of fraud, mismanagement, or other red flags can be grounds for lawsuits alleging fiduciary breaches.
Failure to comply with association bylaws or governing documents – Not following the association's internal rules and procedures can demonstrate mismanagement and disregard for fiduciary duties. Plaintiffs will swiftly attempt to capitalize on any failure to comply.
If faced with legal action for alleged fiduciary breaches, plaintiffs may pursue your personal assets, such as your bank accounts, retirement funds, and real estate. Even frivolous lawsuits can result in considerable defense costs. Therefore, being prudent and obtaining adequate fiduciary insurance is a wise risk management strategy for you and the association.
Why Fiduciary Liability Insurance Matters
Obtaining insurance helps mitigate risk exposure for trade association fiduciaries. A strong fiduciary liability policy can provide coverage for:
Legal defense costs – Often the largest expense in a lawsuit. Defending against allegations and even frivolous suits may lead to substantial legal costs. Insurance covers your attorneys' fees.
Financial damages awarded in a lawsuit or settlement – You could owe substantial amounts in judgments or settlements if found liable. Insurance will pay up to the policy limits, helping to protect your personal assets.
Penalties- State and federal agencies may levy fines and penalties for fiduciary duty breaches based on assessments made by regulators. Insurance will pay covered penalties on your behalf.
Reimbursement of lost funds – Insurance can reimburse the losses if investments or assets decrease in value due to alleged mismanagement.
Fiduciary liability insurance allows you to serve as a board member or officer with greater confidence, knowing your personal assets have protection. It also mitigates the financial pressure on the association by minimizing the impact of unexpected legal costs.
The policy benefits the trade association by making it easier to attract qualified leaders to serve as fiduciaries. People may be far less willing to assume liability risks without proper insurance protection.
Coverages Fiduciary Insurance Provides
Fiduciary policies vary but may include protections such as:
Coverage for errors, omissions, and negligent acts resulting in losses – Inadvertent mistakes leading to fiduciary breach allegations would be covered. You don't need to be guilty of misconduct, just alleged to have made a mistake.
Lawsuits alleging mismanagement or breach of ERISA obligations – Claims you failed to manage association finances properly or mishandled employee benefits are covered risks.
Defense costs and damages payouts – The cost of defending against a lawsuit and any settlement or judgment are covered.
Losses caused by employee dishonesty or fraud – Insurance protects you even if the source was another employee's fraudulent actions.
Penalties assessed by the DOL or IRS – Fines for violations of ERISA or tax laws related to covered fiduciary acts are covered.
Costs related to responding to regulatory audits/investigations – Legal fees and other costs to comply with investigations into alleged fiduciary breaches are covered.
Legal fees incurred to defend the tax-exempt status – Legal defense expenses are covered if the association's 501(c)(6) status is challenged.
Some policies also cover public relations expenses to help repair reputation damages from an incident. Higher limit options are available for associations with greater risks and assets.
Let CI Solutions Help You Get the Fiduciary Liability Insurance Protection Your Trade Association Needs
Trade associations provide immense value to their industries but also assume substantial liabilities. The right fiduciary liability insurance policy protects association fiduciaries, allowing confident governance and management. With comprehensive coverage at a reasonable cost, fiduciary insurance limits the liability risks associated with your important duties.
There are many complexities and details to evaluate when securing the proper nonprofit insurance protection.  The CI Solutions team is experienced in assisting trade associations with their insurance needs. Contact CI Solutions today; we can review your risks and craft a customized solution for your organization.