Owning a restaurant is a dream come true for many people, but it comes with a lot of potential risk. From employee kitchen accidents to customer food poisoning, it is important to cover every potential scenario with proper restaurant insurance coverage.
All businesses that cook and serve food need restaurant insurance, including: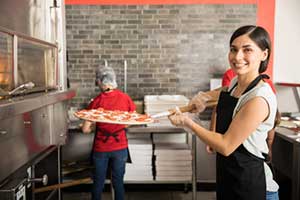 Traditional restaurants
Fast food franchises
Pizzerias
Delis and sandwich shops
Coffee shops and cafés
Bars and taverns
Food delivery services
Ice cream shops
Caterers
Types Of Insurance Policies For Restaurants
Outlined below are some of our most popular commercial insurance products for restaurants.
Spoilage Insurance
In the event of a power outage, restaurants can be faced with significant financial losses from spoiled or contaminated food stemming from a lack of refrigeration. A spoilage insurance policy will cover any expenses related to spoiled food, including the food and potential profits lost.
Business Owner's Policy (BOP)
This type of insurance packages commercial property and liability coverage into a single policy. The liability portion covers liabilities such as property damage, product-related claims and customer injury. The property component covers commercial buildings and movable property used by the business.
General Liability Insurance
A general liability policy will protect restaurants from lawsuits and other financial liabilities caused by accidents or other mishaps, such as customer falls and food-related illnesses.
For customer injuries, general liability insurance covers everything from ambulance rides to legal defense fees and funeral expenses in fatal accidents. It also offers protection when a customer's property is damaged. For example, if a server spills a beverage on a customer's important work laptop, it could help pay to replace the laptop and cover out-of-court settlements or legal fees if you are sued.
General liability also covers advertising injuries, such as libel, slander and copyright infringement.
Commercial Auto Insurance
Restaurants that offer food delivery services or use designated vehicles to pick up supplies will need a commercial auto insurance policy.
Liquor Liability Insurance
If your establishment serves or sells alcoholic beverages, you will need liquor liability insurance as you may be held liable for property damage or bodily injury related to a person's intoxication through your sale or service of liquor.
Utility Interruption Insurance
Most food service establishments depend on water, electricity, gas and communications services to remain operational. Interruptions to utilities can damage the property or force you to close your restaurant. Utility interruption coverage can protect your business from such incidents.
Equipment Breakdown Insurance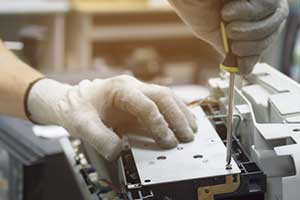 Restaurants often depend on machinery such as ovens, food warmers, refrigerators, freezers and steamers.
If this equipment becomes damaged due to mechanical or electrical breakdown, an equipment breakdown insurance policy provides coverage; it can also be extended to cover any food that spoils as a result.
Employment Practices Liability
An employment practices liability insurance policy will cover your business in the event that an employee sues for harassment, discrimination or another workplace tort.
Workers' Compensation Insurance
From slipping and falling to oil burns, there are plenty of ways restaurant employees can injure themselves while on the job. Without the proper coverage, restaurants can be liable for medical expenses or lost wages in the event of an employee injury or illness. A workers' compensation insurance policy covers expenses associated with employees who become ill or injured at work.
How Much Does Restaurant Insurance Cost?
The price of restaurant insurance depends on the establishment's specific qualities. Some of the factors that influence the insurance rate include the type of food sold, the building type and the cooking methods used.
A small coffee shop with minimal cooking will cost less to insure than a full-service restaurant with multiple ovens and fryers.
Reach Out To The Restaurant Insurance Professionals
A restaurant insurance policy will protect the food-related business you have worked so hard to build. Our team of restaurant insurance brokers can advise you on the right policy to suit your establishment.
Get in touch with CI Solutions today to find out more about how our commercial insurance policies can help protect your business by calling 703.988.3665 or by contacting us online.
Apply For A Restaurant Insurance Policy