Working with students can be a very rewarding experience. However, like all businesses, Montessori schools, private schools and other educational institutions need to plan for potential risks. All types of educational facilities run the risk of liability lawsuits, student and faculty injuries, and property damage. Educational insurance can give you peace of mind as you strive to shape young minds and set the next generation up for success.
What Types Of Facilities Need Educational Insurance?
Here is a look at just a few of the educational facilities that need educational insurance: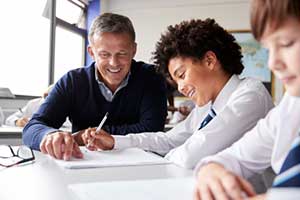 Montessori and Waldorf schools
Private schools
Culinary schools
Continuing education
Language schools
Tutoring and test prep
Fine arts schools, such as music, dance and drama
Educational enrichment
Computer training schools
Although a culinary school might have different insurance needs than a test prep center, it is important to keep in mind that all educational businesses need affordable and flexible insurance that is tailor-made to address their specific concerns.
Types Of Educational Services Insurance Coverage
Discussed below are some of our most popular educational services insurance policies for Montessori and private schools.
Business Owner's Policy (BOP)
A business owner's policy, or BOP, serves as a good foundation for your educational institution. It combines two types of coverage that are also available separately:
General Liability Insurance
Commercial general liability policies offer coverage for damages in the event of an accident at your educational center involving injury or damage to the property. Some of the scenarios where it can help include students' medical bills after getting hurt at school or repair costs if a teacher damages a student's property.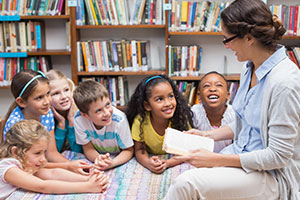 Commercial Property Insurance
This type of insurance covers your school's equipment and facilities, such as furniture and books, in case of a natural disaster or fire.
Educators Legal Liability
Also known as Errors & Omissions Insurance, this type of insurance covers in instances where someone claims that your school made a mistake. For example, if parents sue you because they feel their child's poor grades were the result of negligent behavior, this type of insurance will help cover your legal costs.
Workers' Compensation Insurance
This insurance can replace the wages and medical benefits of employees who are unable to work because of a work-related accident or injury.
EPLI
This type of insurance covers claims of wrongful employment practices involving wrongful termination, failure to grant tenure and discrimination.
Employee Benefits Liability
Employee Benefits Liability covers you if your school is sued for an error or omission in its employee benefits program. For example, it may cover errors in administering your paid time off policy, group health insurance or sick days.
Abuse & Molestation Coverage
This type of endorsement can provide coverage in cases of negligence related to sexual abuse or molestation.
Crisis Event Coverage
Violent events at educational institutions are on the rise, and this type of policy can cover the costs associated with counseling, communication and other expenses after a violent or tragic event at your school.
Speak To An Experienced Insurance Broker
If you want to find out more about reducing your educational institution's risks, get in touch with the experienced commercial insurance brokers at CI Solutions. We can help you create a comprehensive, tailored commercial insurance package that takes into account all the risks that are specific to your institution.
Apply For A Montessori/Private School Insurance Policy