Information technology companies and startups are unique types of businesses that face a range of business-related risks. Standard coverage like general liability insurance remains important, but the operational risks faced by IT companies require more nuanced types of coverage, such as cyber liability insurance. CI Solutions offers a variety of IT insurance policies that give technology companies in the IT industry peace of mind.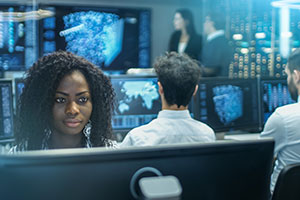 IT Industry Insurance Policies
Each business has its own specific coverage needs, but there are several policies that every IT company should consider as part of its business insurance program.
Business Owner's Policy (BOP)
A Business Owner's Policy, or BOP, combines two types of essential business coverage for a more cost-effective approach to thorough coverage. The two components can also be purchased separately.
Commercial Property Insurance
A commercial property policy covers the value of your IT firm's building and its contents, including inventory, furniture and equipment. It protects against loss and damages and is useful for problems such as windstorms, fires, theft and vandalism.
General Liability Insurance
This type of policy will cover common business risks such as customer property damage, advertising injuries and bodily injury. For example, it may cover slip and fall accidents, libel or slander lawsuits and damaged customer property. It is often required for obtaining a commercial lease.
Technology Errors & Omissions Insurance (E&O)
Errors and omissions is an important type of coverage for tech firms because it offers protection in cases where your company's service or product did not perform as expected. Products such as software are not typically covered by a standard liability policy, and E&O provides useful liability and property loss coverage related to your products' performance.
For example, it may cover the financial losses incurred by a customer due to errors or omissions related to your service or product. It is useful for work mistakes, coding errors and oversights.
Directors & Officers Insurance (D&O)
This type of policy covers the costs of defense and damages from lawsuits, allegations and wrongful acts against the board of directors or officers of your company.
This is important in tech companies because directors' and officers' personal assets are at risk and need proper protection. It can cover defamation claims, accusations of mismanaged funds and employee practices lawsuits.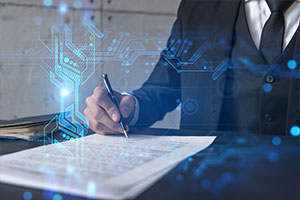 Cyber Liability Insurance
Cyber liability insurance covers the costs associated with data breaches, such as forensics, credit monitoring and notification costs. A good policy will cover the costs of defending or settling lawsuits if you are sued by a partner or client whose data was breached due to your action or inaction.
It can also protect against third-party lawsuits related to network security and privacy losses. In addition, it can cover regulatory fines and penalties, PCI penalties and cyber extortion.
Workers' Compensation Insurance
Workers' compensation insurance is needed for businesses that have employees. It can help to cover their medical expenses for illnesses and injuries related to their work.
Employment Practices Liability Insurance (EPLI)
This protects against claims by employees related to wrongful termination, discrimination and harassment.
Get In Touch With The CI Solutions Brokers Today
If you need a comprehensive solution for your IT firm, get in touch with the commercial insurance brokers at CI Solutions. Our team will analyze your current risks and anticipate risks you might face in the future to find commercial policy solutions that cover all the bases.
Apply For An IT Insurance Policy