Many nonprofits operate on a tight budget, and a single unexpected expense could cause financial ruin. Nonprofits and social service organizations need flexible nonprofit insurance policies to cover volunteers, independent contractors and other professionals working with the organization.
Commercial Insurance For The Nonprofit Industry
Below are some of our top commercial insurance policies designed for businesses that operate within the nonprofit industry.
General Liability Insurance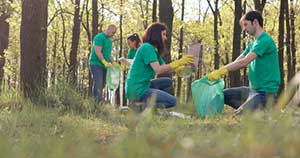 A general liability policy can protect nonprofits from damages they are ordered to pay individuals who are injured on their property, whether it is a visitor, supplier or customer.
One notable exception is the nonprofit's employees, who are covered by workers' compensation insurance. It can also help with personal and advertising injury claims, such as copyright infringement.
Workers' Compensation Insurance
This type of insurance covers injured workers' medical expenses, disability and death benefits. Volunteer accident insurance can cover minor injuries in people who are volunteering for your organization.
Directors And Officers Insurance
A nonprofit's board of directors and officers can be personally named in lawsuits alleging fraud and financial mismanagement, even if these individuals are only volunteers. A directors and officers insurance policy can cover the costs of defense directors, settlements, judgments arising out of lawsuits, money damages, and wrongful act allegations brought against a nonprofit organization. By providing the right type of coverage it can help an organization attract and retain qualified directors and board members for their nonprofit organization.
Read More On D&O Insurance For Nonprofits
Property Insurance
This policy will protect the space you occupy, whether you are renting it or you own it. It covers assets lost in events such as storms, earthquake, fires or other events. This can include the building as well as inventory, supplies, computers, office furniture, equipment and machinery.
Cyber Liability Insurance
This type of coverage can help when nonprofits are targeted by cyber theft and other cyber crimes. Human service nonprofits are particularly vulnerable. A nonprofit's computer servers, laptops and computers often contain sensitive and personal information about donors, employees and other confidential data.
This type of insurance can cover claims related to breaches and expenses, such as notifying affected parties and data restoration.
Product Liability Insurance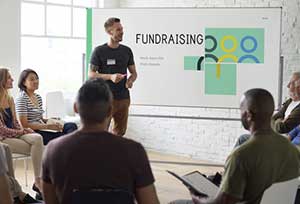 If your nonprofit organization sells products to the public, such as for fundraisers, product liability insurance can protect you against lawsuits filed by customers who claim that an unsafe or defective product you provided caused harm.
Product liability insurance can cover legal defense and some of the damages when people are injured by your products.
Professional Liability Insurance
Also known as errors and omissions insurance, this protects against liabilities that result from the mismanagement of the organization. It also covers workplace-related claims such as sexual harassment and discrimination and applies to the nonprofit's directors, officers, volunteers and staff.
Auto Insurance
Auto liability insurance is required if your staff or volunteers use any vehicles for your nonprofit's activities, even if they are their own personal vehicles.
Commercial auto insurance will cover injuries caused by a driver to other individuals or property while they are working for your organization. You might also need personal injury protection and uninsured/underinsured motorist coverage.
Reach Out To The Experienced Nonprofit Insurance Brokerage
If you want to protect your nonprofit organization from risk, get in touch with the experienced commercial insurance brokers at CI Solutions. We can ensure your nonprofit organization has the insurance coverage you need to run smoothly so you can devote more attention to your mission.
Apply For A Nonprofit Insurance Policy