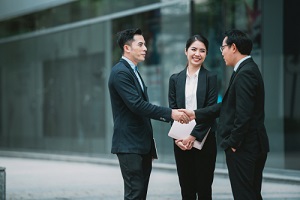 Litigation is all too common in many aspects of modern society, and trade associations are not immune to lawsuits. In fact, much like a traditional business, a trade association could find itself facing a lawsuit that could be financially devastating in addition to ruining their reputation. To help alleviate the financial burden of a broad range of claims, many trade associations purchase insurance.
However, standard commercial general liability insurance policies for trade associations have aggregate limits that do not cover excess claims once exhausted. Your trade association could end up paying out of pocket for large claims. Therefore, all trade associations should consider purchasing umbrella insurance in addition to their liability policies.
Why Do Trade Associations Need Umbrella Insurance?
Unfortunately, court judgments may result in penalties of millions for a trade association, and these amounts could go beyond the coverage of most general liability policies. Even a car accident involving one of your trade association's vehicles could threaten the financial stability of your association.
Although trade associations do not typically sell items, they are still liable for the health and safety of their employees as well as employees' behavior. If your trade association's office has a carbon monoxide leak, for example, and several of your association employees become gravely ill, umbrella insurance will prove useful.
It is important to understand that commercial umbrella policies extend the limits of your primary liability policies. Importantly, you will not be able to obtain umbrella insurance unless you already have at least one other liability policy in place. Think of this as a policy extension rather than a stand-alone product. Commercial umbrella policies have aggregate limits as high as several million dollars.
However, umbrella insurance does not typically cover claims related to business property. Therefore, if your trade association's equipment is damaged such as in a fire, replacing or repairing property will incur out-of-pocket expenses if it has exceeded any applicable existing limitations. Moreover, claims related to cyberattacks or errors and omissions are not covered. Discuss the specifics of your policies with your insurance provider.
What Is the Purpose of Umbrella Insurance Coverage?
Umbrella coverage is a type of insurance that protects trade associations against big liability claims that result in significant financial judgments that can put the entire association at risk. Here is a closer look at the purposes of an umbrella policy:
It offers coverage for the potential damages and court defense fees that go above any underlying insurance policies such as general liability policies.
It applies to claims where the underlying policy's aggregate limit has been met and covers the portion of the claim that cannot be covered using the underlying policy due to insufficient funds. For example, for a claim of $2 million, if your commercial general liability policy only has $1 million remaining, the umbrella policy will cover the remaining $1 million.
It offers coverage in situations that underlying insurance policies do not cover, if they are not specifically excluded from the umbrella policy. This benefit typically involves a type of deductible known as a self-insured retention (SIR) in which the policyholderpolicy holder will be responsible for losses up to the SIR amount.
What Are the Features of a Typical Umbrella Policy?
It may offer an extension of insurance protection for additional insured parties.
It may offer coverage for incidents such as personal injury; care, custody and control; watercraft liability; liquor law liability; explosion, collapse and underground liability; advertiser's liability; nonownednon-owned aircraft liability; and worldwide.
The insurer reserves the right to investigate any claims that are not covered by any of the association's underlying insurance.
Umbrella policies follow form, which means that they are held to similar provisions as the underlying policy. If a claim is not covered by an underlying policy, the umbrella policy makes the trade association responsible for a loss if it exceeds the SIR limits. These damages must involve property damage, advertising injury or personal injury.
How Much Does Umbrella Insurance for Trade Associations Cost?
The premiums for your umbrella insurance will depend on the size of your trade association, the industry in which it operates, and your amount of underlying coverage.
Get In Touch With The Commercial Insurance Professionals
To learn how umbrella insurance can help your trade association, contact the independent commercial insurance experts at CI Solutions. We work with the nation's top-rated carriers to offer our customers comprehensive insurance solutions that meet their needs while suiting their budget. Let us discuss available policies to help you obtain the proper insurance coverage to ensure peace of mind for your trade association.